If your site zone is rural and is a minimum size of 4 hectares, the maximum diesel storage quantity is 1,000L for single skin tanks. Although this is the case, the legislation does state, "If the fuel is stored so a spill will not endanger buildings, streams or water bodies, these requirements are only needed if you store 2,000L of diesel". In more simple terms, it is legal for you to store up to 1,999L of diesel on your farm in a single skin tank if you meet these conditions. Over 2,000L, you will need a self-bunded tank.
Click here for the exact place on the Worksafe website that explains further how much diesel or petrol you can store on your farm.
So, What Are My Options?
Petrol
Petrol is highly flammable and is one of the most hazardous substances that we use. Because it is so easily ignited, you must handle it with great care.
If you're needing to store petrol, there are few important safety items to bear in mind. Petrol is commonly used in much smaller quantities on farms for refuelling equipment like motorbikes and chainsaws, therefore the storage amount can be reduced to much safer levels.
Ideally, petrol should be kept in a shed or garage that is separated from the dwelling. Containers of petrol should only be stored in well-ventilated, secure outbuildings away from living accommodation and from all sources of ignition such as fires, lights and any electrical points such as sockets or fuse boxes.
Here's a few tips for when storing and using petrol:
Storing smaller amounts is better; Over time, petrol can become stale and can cause rough engine idle and hard starting, especially when stored under less-than-ideal conditions.
Petrol is much more volatile; Due to the highly flammable nature of petrol, a leak can easily lead to a fire or explosion. This can occur if the gasoline or its vapors come into contact with a heat source, such as a spark or a very hot surface.
Use only approved petrol containers; When transporting containers, be sure they are secured in the vehicle. Fill containers to no more than 95% of the container to allow room for thermal expansion. Be sure your containers have secure lids.
Some Common Solutions for Storing Petrol on Farms...
Aluminium Ute Tanks up to 250L
The quantity limits for petrol transported for agricultural use or for a commercial purpose, (but not transported for hire or direct reward) is a maximum of 250 litres. The aluminium ute tank pictured below that is coupled with a petrol approved hand pump, makes an ideal tank that can be used for purchasing petrol from the nearest service station and for storing the fuel on farm.
For more information on transporting dangerous goods, see fact sheet 68 from the NZTA website.
Stationary Tanks
If you're wanting to store larger quantities of petrol on your farm, you have the option of storing up to 1,000 litres in a single skin steel tank, without the need for secondary containment bunding, or up to 2,000 litres in an open secondary bund. Because fuels are flammable, there are minimum distances needed between where they are stored and other buildings or activities.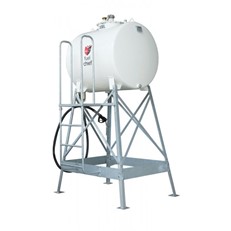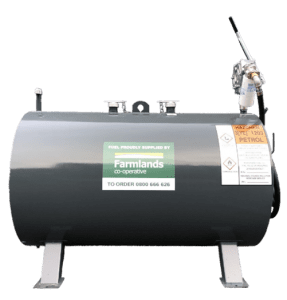 See below some useful links for storing petrol:
What if I Want to Store Diesel?
While diesel as a substance is not as flammable as petrol, it is an environmental hazard with considerable clean-up costs if it should leak into a drain, watercourse or the soil.
Diesel is still a hazardous substance, and two grades of diesel fuel are approved for use in New Zealand:
Automotive gas oil and marine diesel
Low flash point diesel
For simplicity, both are treated as flammable liquids, low hazard.
While storing diesel is very common and relatively simple compared to petrol, there are a number of factors that need considering. Click here for a helpful resource, then give one of our guys a call and we'll make your installation simple.
Here are a Few Tips on How to Store Diesel Safely...
Keep your storage tank full; The presence of water allows the growth of bacteria and fungus in your fuel, which produces organic acids that render the fuel unstable. The tank breathes, so most of this water will come from condensation. It is advisable to keep the tanks full so as to reduce the space for water to condense and to prevent corrosion in the upper half of the tank that is empty.
Drain your storage tank regularly; Water should be drained from the storage tank at least once a month. If the tank shows an increased tendency to collect water, the exercise should be carried out more often, possibly on a weekly basis. The rate at which water collects will also depend on the climate in the location, but it tends to be higher in hot, humid, coastal areas.
Monitor it; The most important step of all for extending your diesel fuel lifespan is to monitor it regularly. You could do everything right in setting up your diesel tank, but you can never account for human error. Instead of using fuel that has gone bad, if you monitor the tank and clean out your used tanks, you shouldn't have any issues with the tank, or the fuel.
If you don't take care of your diesel storage, you could have issues with moderate or severe corrosion, which can lead to fuel leakages.
Store your diesel fuel in a double skin tank; Fuel oxidation is a natural occurrence that degrades the properties of the fuel. In order to prevent this from happening, it is important to keep the tank cool. The inner skin on a double-skinned diesel tank is protected from the elements by the outer-skin. This prevents any damage such as knocks or punctures from branches, debris from the winter weather, and also has the effect of keeping the fuel cooler.
Here are some useful links for the storage of diesel: